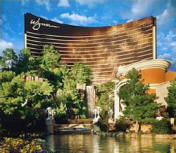 Wynn graduated from The Manlius School, a private boys' school in upstate New York, in 1959. Wynn's father, Michael Weinberg, ran a string of bingo parlors in the eastern United States, and died shortly before Wynn graduated from the University of Pennsylvania in 1963 where he became an active brother of the Sigma Alpha Mu fraternity. Wynn took over running the family's bingo operation in Maryland. He did well enough at it to accumulate the money to buy a small stake in the Frontier Hotel and Casino in Las Vegas, where he and his wife, Elaine, moved in 1967.
Wynn managed to parlay his profits from a land deal in the early 1970s (the deal involved two established titans of the Las Vegas casino business, Howard Hughes and Caesars Palace) into a controlling interest in a dusty downtown casino, the Golden Nugget Las Vegas (he also owned The Golden Nugget in Atlantic City). Wynn renovated, revamped and expanded the Golden Nugget with enormous success, in the process attracting a new upscale clientele to downtown Las Vegas.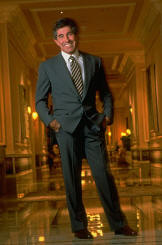 Wynn had previously acquired interests in various existing casinos. His first major Strip casino, The Mirage, set a new standard for size and lavishness, with construction costs to match. The Mirage featured an indoor forest and an outdoor "volcano," and with high-quality room appointments and an emphasis on service, the Mirage was another great success. The Mirage was the first project in which he was involved in the design and construction of a casino. Financed largely with junk bonds issued by Michael Milken it was considered a risky venture by the standards then prevailing in Las Vegas because of its high cost and emphasis on luxury. It proved to be enormously successful and made Wynn a major part of Las Vegas history.
Wynn expanded further on his concept of the luxury casino in the later Bellagio resort, including an artificial lake, indoor conservatory, and an art gallery in which Wynn displayed museum-quality artworks, and branches of high-end boutiques and restaurants located in Paris, San Francisco or New York. The Bellagio is credited with starting a new spree of luxurious developments in Las Vegas. Among these developments include The Venetian, Mandalay Bay, and Paris Las Vegas.
Mirage Resorts was sold to MGM Grand Inc. in 2000, to form MGM Mirage. With the money he made on that deal, and with his ability to secure ever-greater financing, Wynn built a new resort, his most expensive yet, the Wynn Las Vegas, which opened on the former site of the Desert Inn on April 28, 2005. Wynn is building a casino in Macau, a Special Administrative Region (SAR) of China. This property, known as Wynn Macau, is scheduled to open in September 2006.