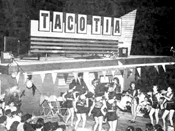 At 23 years old Glen Bell opted not to open a miniature golf course and opened his first restaurant instead. It was a hot dog stand in San Bernardino, CA named Bell's Drive-In.

He eventually expanded his menu and opened a few more "Bell's Burgers" in San Bernardino and the surrounding area. He served hamburgers, hotdogs and even personally developed a chili dog's sauce for chili dogs that would later become Taco Bell's taco sauce.

Having new competition from Maurice and Dice McDonald and their newly opened "McDonald's" also in San Bernardino, Glen began experimenting with adding tacos to his menu. The tacos were a hit and in 1954 and 1955 he opened 3 Taco Tia restaurants dedicated to serving his tacos.

Neal Baker, a friend of Glen who had helped him build his first few locations had decided to try his hand in the business and opened "Baker's" a successful California franchise.

Glen opened a Bell's Burgers location in Barstow and convinced his employee Ed Hackbarth to move up to Barstow and run it. Ed successfully ran the location after they changed it into a Taco Tia he and eventually leased the location from Glen and started a new re

staurant called "Del Taco". Years later Dick Naugle, while installing equipment for the first Del Taco drive thru, would become interested in the business and would team up with Harold Butler from "Denny's" and open up a taco place called "Naugles."

Glen loved the food business and eventually convinced his commissary manager, John Gallardi to open a restaurant of his own. Glen's wife Martha provided the name for the new hot dog stand as well as helped develop the menu. It was called "Der Weinerschnitzel."
After Glen's partner announced that he didn't want to expand the concepts too quickly, Glen cut himself loose by selling his interest in his restaurants and moved to LA and opened a new concept called El Taco. In order to expand quicker he took new partners and opened more locations. They built a commissary and business plan to accommodate growing into over 100 units. They did very well but eventually Glen decided that he didn't want any partners and wanted to go out on his own.

He sold the El Tacos to his partners and built the first Taco Bell in Downey, CA in 1962. He quickly expanded to 8 locations (which are still open today) and sold his first franchise to Kermit Becky in 1964.